Scholarship
Annual Scholarship Award
2022 Clearwater High School Scholarships

On behalf of Phil's Foundation, Stan & Veronica Bryant awarded two promising young men each a scholarship this spring. Congratulations Aiden Bell and Aidan MacLean.
A. Bell will be attending McDaniel College this fall and majoring in criminal justice. A. MacLean will be attending Tufts University this fall and majoring in environmental science.
Both young men not only excelled in the classroom but on the football field as well. They were both named to the Suncoast News 2021 All-Pinellas County Football Team.
We are firm believers that there is something very special in each and every one of us. We have all been gifted with the ability to make a difference. If we can become aware of that gift, we gain through the strength of our visions. We have the power to shape the future. ~ Stan & Vern
Phil's Foundation is honored to help shape the future by awarding our 2022 scholarships to Aiden Bell and Aidan MacLean.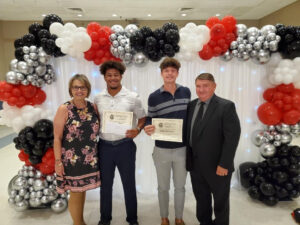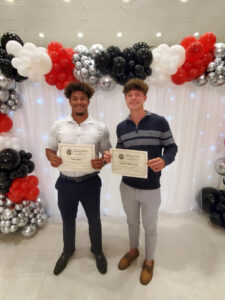 Scholarship Details
Purpose: To provide financial assistance for post secondary education to a qualifying high school senior.
Criteria for Eligibility:
Clearwater High School graduating senior
Outstanding athletic and leadership skills in high school football
3.0 unweighted GPA
Outstanding demonstration of character, commitment, & compassion for others
Criteria for Selection:
Athletic coach letter of recommendation(s) per committee request
Teachers' (3) letters of recommendation for nominees
Committee review of recommendations for nominees
Foundation selection of winning nominee
Amount of Scholarship Award:
Non-renewable monetary award determined annually by the Foundation
Scholarship Disbursement:
Award distribution pending acceptance to post secondary institution
Award money to be placed in recipient's student account at the Financial Aid Office of the chosen post secondary institution
All monetary transactions made in the recipient's name will be supervised by the Financial Aid Office's Scholarship Coordinator