2016 – Summer Updates
From our 2016 Clearwater High School Scholarship winner, Trevor Bosetti:
It was nice to meet you guys as well! Thank you again for the scholarship and thank you for everything you do for our community and the light you bring to the melanoma cause.
I will make sure to keep you updated as I enter college and it's nice to now be in the loop of your organization.
Thank you again I appreciate it all.
Trevor
Our annual donation to Moffitt, to further melanoma research, will reach $10,000!!
Thanks to all who have donated to our cause! We are forever grateful!
When you're out & about & happen to come across clearance / sales items, or, if you're cleaning out a closet or garage & find some goodies you don't want, please send them our way.
We can use them for future raffles. Save your receipts & we'll reimburse you.
Sincerely,
Stan & Veronica Bryant
Philip A. Bryant Melanoma Foundation
www.pab40foundation.org
Save the date:
7th Annual Angry Open!
Thursday, 10/27/16, back @ Bardmoor Golf Course
Plenty of time to ask for a half a day off! 😉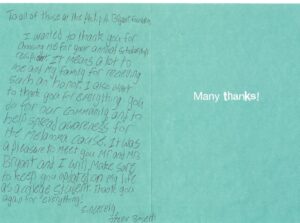 2016 donation to Moffitt
Our 2016 donation to Moffitt's Donald A. Adam Comprehensive Melanoma Research Center…wait for it…$10,000!!
During our ten years of operation, Phil's Foundation has donated a total of $55,000 to further melanoma research.
We are so proud & extremely grateful for everyone's support!
Stan & Veronica Bryant
Philip A. Bryant Melanoma Foundation
www.pab40foundation.org
"Never doubt that a small group of thoughtful, committed individuals can change the world.
Indeed, it's the only thing that ever has."
Margaret Mead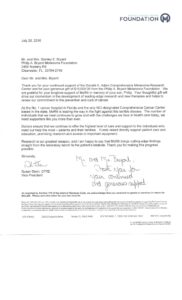 Event details
START DATE: August 11th, 2016
END DATE: August 11th, 2016