2014 ANGRY OPEN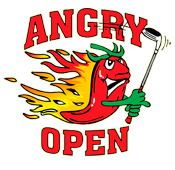 Wanted to thank all involved with our wildly successful Angry Open! A record 116 golfers! 28 sat still to be skin screened. Special thanks to Angry Pepper, Angry Pepper Taphouse, Slyce pizza bar, JJ Taylor & Great Bay for the cold beer! Props to Alex Cobb for allowing us to auction off a pair of his cleats! A good time for a great cause!
1st Place – 58: Trey Garrison Donny Karcher Jason Costello Matt Cottichio
2nd Place – 59: Dave Cote Pat McGuire Craig Sessions Bill Buck
3rd Place – 60: Steve Houser Brian Roderick David Warner Mike Bowes
Longest Drive: #9 – Chris Lollis
Closest to the Pin: #3 – John Frabotta, Jr.
Total skin screened: 28
13 Referrals
7 biopsies req.
Special Thanks to CDH Photography!
Event details
LOCATION: Seminole Lake Country Club
START DATE: October 30th, 2014
TIME: 1:00pm